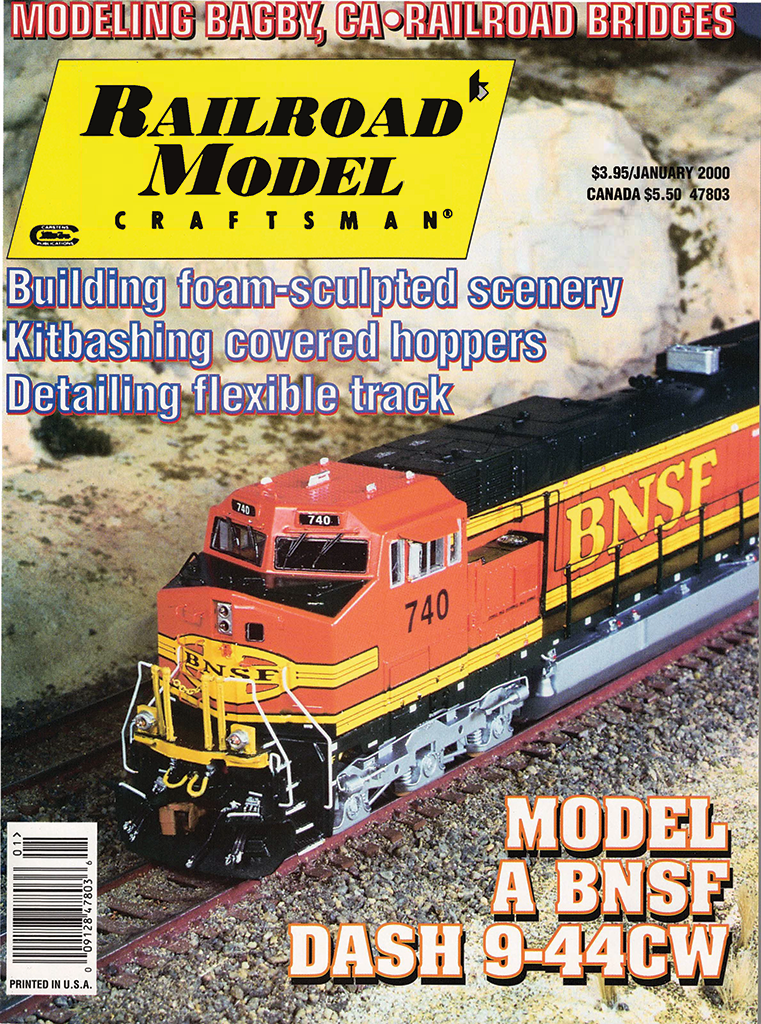 Railroad Model Craftsman January 2000
Features:
Perspective: Snow comes to Roseville • by Rob Robson — Roseville, California, is the home base for the snow fighting equipment used by the Union Pacific to keep the former SP mainline over Donner Pass open during the heavy winter snows.
Jim Panza's Allegheny Valley Railroad • by Jim Panza — Based on the Pennsylvania Railroad's Allegheny branch, this HO scale model railroad features plenty of action and a variety of first and second generation diesel power.
American railroad bridges: Pt.II • by William D. Middleton — This month we continue our look at the design and development of railroad bridges in North America.
Modeling an HO scale BNSF Dash 9-44CW: Pt. I • by Yasushi Sasaki — Japanese modeler Yasushi Sasaki explains how he built a contest quality model using Athearn's HO scale Dash 9-44CW.
Carpak: Modeling from the prototype, MDC covered hoppers • by Mike Rose — Covered hoppers are the most numerous type of freight car on the rails today. Here are two different cars that can be modeled using the MDC kit, some decals and paint.
Foam-sculpted scenery • by Clayton Barry — Expanded foam is an ideal material for constructing scenery. Here is how you can cut and shape it, then add lightweight rock detailing.
Modeling sidings and industrial right-of-ways with flexible track • by Bill Henderson — Here is how you can give your flexible track the appearance of handlaid track.
RMC/Dremel Kitbashing Award: A large, kitbashed station • by William C. Schaumburg — This HO scale station, built by modeler Bill Emond, is just the right size for a small city.
Bagby, California, circa 1939 • by Jack Burgess — This small California town was located on the Yosemite Valley Railroad and featured a very modelable rail yard and locomotive servicing facility.
Departments:
Classified Advertising • Commercial listings
Collector Consist
Dealer Directory • Recommended hobby dealers
Dispatchers Report • Product and industry news
Editor's Notebook • by William C. Schaumburg
Exchange Place • Non-commercial listings
Index of Advertisers
Note's on an Old Timetable • Editorial by Harold H. Carstens
Rail Books • Book news and reviews
RMC Timetable
Safety Valve
Test Track • Product reviews
---