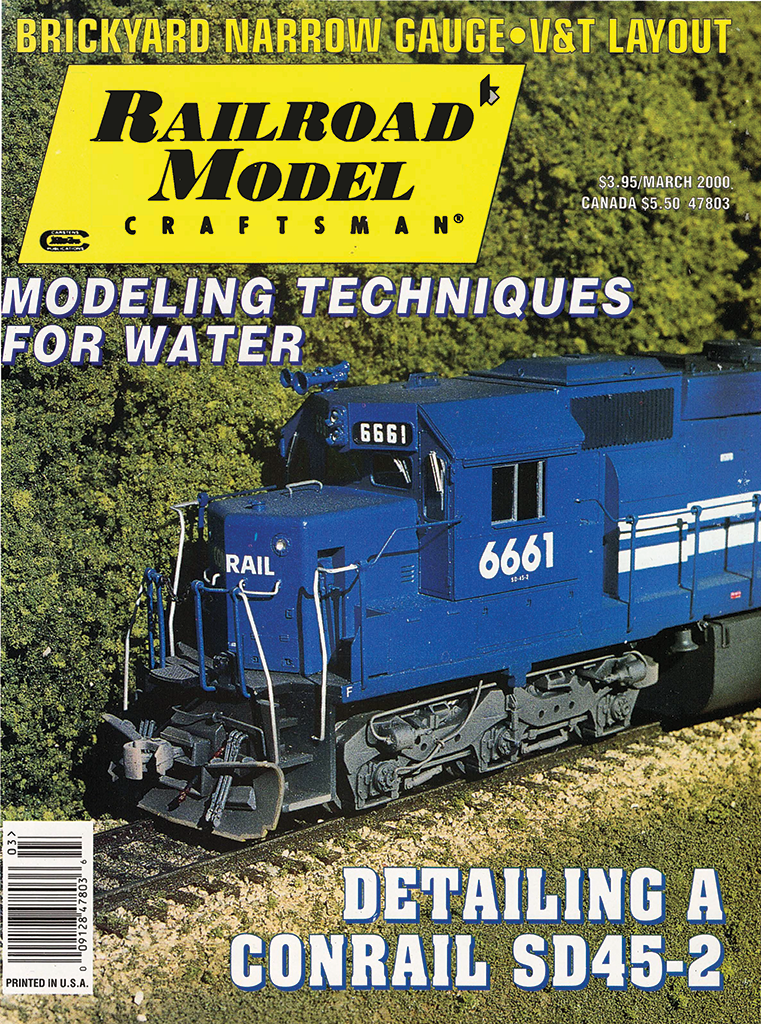 Railroad Model Craftsman March 2000
Special Features:
Perspective: Your eyes can fool you • by David Lustig — Thanks to the historical preservation movement, it is quite possible to see remnants of yesterday's railroading side-by-side with today's modern equipment.
A visit to the CNY-MOD • by Michael Wood — Judging by their work, the members of The Central New York Modelers of Distinction live up to their name - just take a look at their HO modules.
Donn Tolley's Virginia & Truckee • by Brett Barker and Bob Felton — This HO scale layout is set in the mining region of Nevada during the 1800's and features plenty of railroading and western action.
Brickyard railroad: A modern industrial narrow gauge • by Edward H. Case — A small industrial railroad of this sort could easily be included on a larger layout.
Modeling:
Conrail's original beast - the SD45-2 • by Dan Bourque — An Athearn chassis, a Rail Power Products shell and plenty of Cannon & Co. parts were used to make this good-looking HO model.
Modeling water • by Dave Connery and Brad Lloyd — Here is a look at some of the methods that can be used to replicate water on a layout, along with some suggestions on their use.
Modeling weathered concrete • by Doug Hole — A little paint or chalk dust is all that you need to give your concrete structures an aged look.
RMC/Dremel Kitbashing Award: A CB&Q-style combine-caboose • by Kenneth Martin — This prototypically based HO model combines parts from an MDC Overton coach and a wooden caboose kit.
Installing a pivot plate in a hidden yard • by Fred Headon — Here is an ingenious device that allows for additional operation in areas where space is at a premium.
Building a parcel distribution center • by Frank Cicero — If you are looking for a modern building that can serve as a TOFC destination point, then you'll want to check out this article.
Prototype:
Lehigh Valley's Depression-era 40-foot boxcar • by Eric Neubauer — The Lehigh Valley built 1,350 of these cars at its Sayre shops.
Departments:
Advertising Index
Collector Consist • The Giant of Nuremberg Part II by Keith Wills
Classified Advertising
Dealer Directory • Recommended hobby dealers
Dispatcher's Report • Product and industry news
Editor's Notebook • by William C. Schaumburg
Exchange Place
Notes on an Old Timetable• Editorial by Harold H Carstens
Railbooks • Book news and reviews
RMC Timetable • Scheduled events and notices
Safety Valve • Letters from our readers
Test Track product review
---