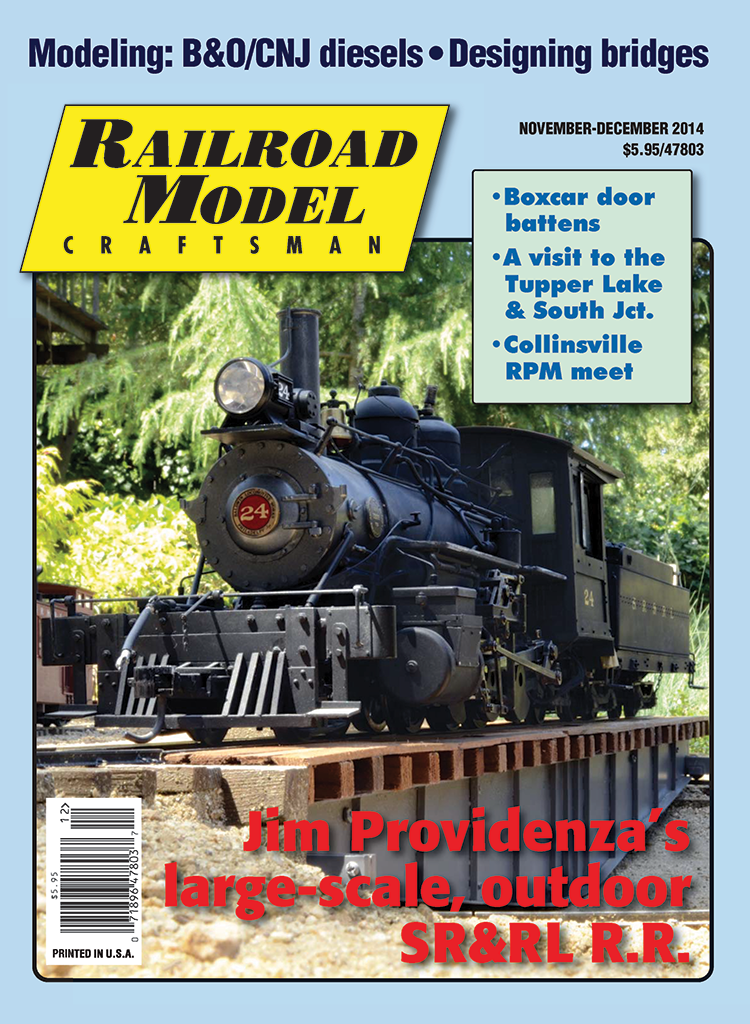 Railroad Model Craftsman Nov-Dec 2014
Special Features:
Perspective: Salute to the Chinese SY • by Robert D. Turner — The Chinese class SY 2-8-2 locomotives were the last mass-produced steam locomotives in the world. China turned out more than 1,800 of them from the 1960s until 1999, and two of them have found a home in the United States.
A visit to the Tupper Lake & South Junction • by John Diamond — Built in Australia, this freelanced, New York Central-inspired, HO-scale layout is set in the Adirondacks during the steam-to-diesel transition era.

Collinsville 2014 RPM meet • by William C. Schaumburg — Join us for a look at some of the fine modeling that was on display in Connecticut at this year's Collinsville Railroad Prototype Modelers Meet.
A Maine two-footer modeled in a California backyard • by Jim Providenza — The Sandy River & Rangeley Lakes junction at Stong, Maine, is recreated outdoors in Proto 20.3 scale.
---
Modeling:
Modeling CNJ leased diesels • by Jim Homoki — Athearn's Genesis locomotives are an excellent starting point for modeling the F7s and GP9s the financially troubled Central Railroad of New Jersey leased from Baltimore & Ohio in the 1960s and 1970s.
Roll your own boxcar door battens • by Don Valentine — In the steam-era, large, heavy sheets of paper were sometimes nailed over boxcar door openings to help protect the cargo from damage by the weather, dust, and cinders. Here is how you can recreate that detail in miniature.
RMC/Dremel Kitbashing Award: The Whopper® Building • by Dr. Frank Heynick — This unique, six-story O-scale building is part of a much larger New York City-inspired diorama.
Three bridges; One scene • by Stephen M. Priest, MMR — A look at the philosophy, design, and installation of three distinctly different bridges and their supporting piers and bents.
Scratchbuilder's Corner: More on research and travel • by Bob Walker — When it comes to gathering a feel for an locale, nothing beats an actual visit to the area you want to model.
---
Departments:
Dispatcher's Report — Product and industry news
Railbooks — Book news and reviews
RMC Timetable — Scheduled events and notices
Test Track — Product reviews
Collector Consist • by Keith Wills — For the duration
Editor's Notebook • by Christopher P. D'Amato
Classified Ads — Commercial listings
Dealer Directory — Recommended hobby dealers
Advertising Index
---