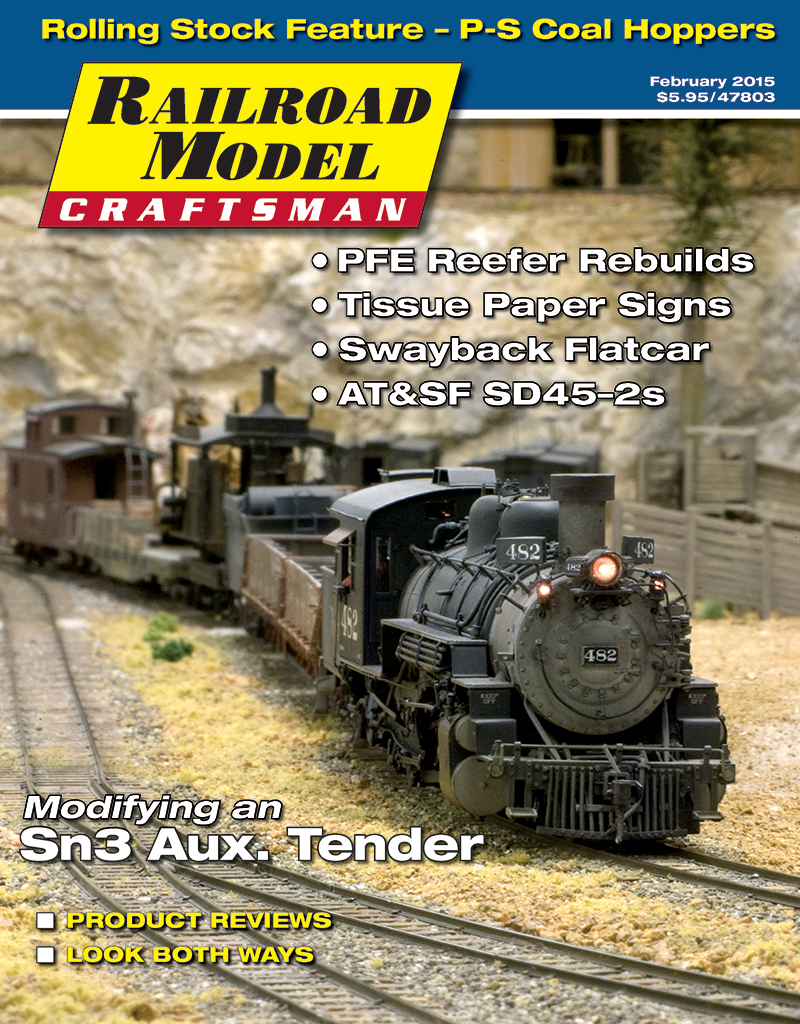 Railroad Model Craftsman February 2015
Features:
Making It Sag • by Bruce Dombey — Creating sagging rolling stock is quite easy if you scratchbuild it.
AT&SF SD45–2s • by Eric Goodman — Eric Goodman shows us how to build and super-detail a Santa Fe SD45–2 and an SD45–2b from RailPower shells.
P-S Coal Hoppers • by James Kinkaid — A review of Pullman-Standard's 4,000 cuft coal hoppers and drawings.
PFE Rebuilding • by Steven Bechtold — Upgrading commercial mechanical reefers in one evening. Car drawings are included.
An Aux. Tender • by Tom Troughton — Modifying a brass tender to serve as an auxiliary tender for a ditcher.
Tissue Paper Signs • by Lynn Draper — Make colorful building signage by printing on tissue paper.
---
Departments:
Editor's Notebook • by Stephen Priest
Postmarks
Receiving Yard
Rail Books • Book news and reviews
RMC Timetable • Scheduled events and notices
Look Both Ways • by Mike Schafer & Bill Navigato
Test Track • by David Otte & Douglas Harding — Product reviews
Scratchbuilder's Corner • by Bob Walker
Classified Ads • Commercial listings
Dealer Directory • Recommended hobby dealers
Advertising Index
---