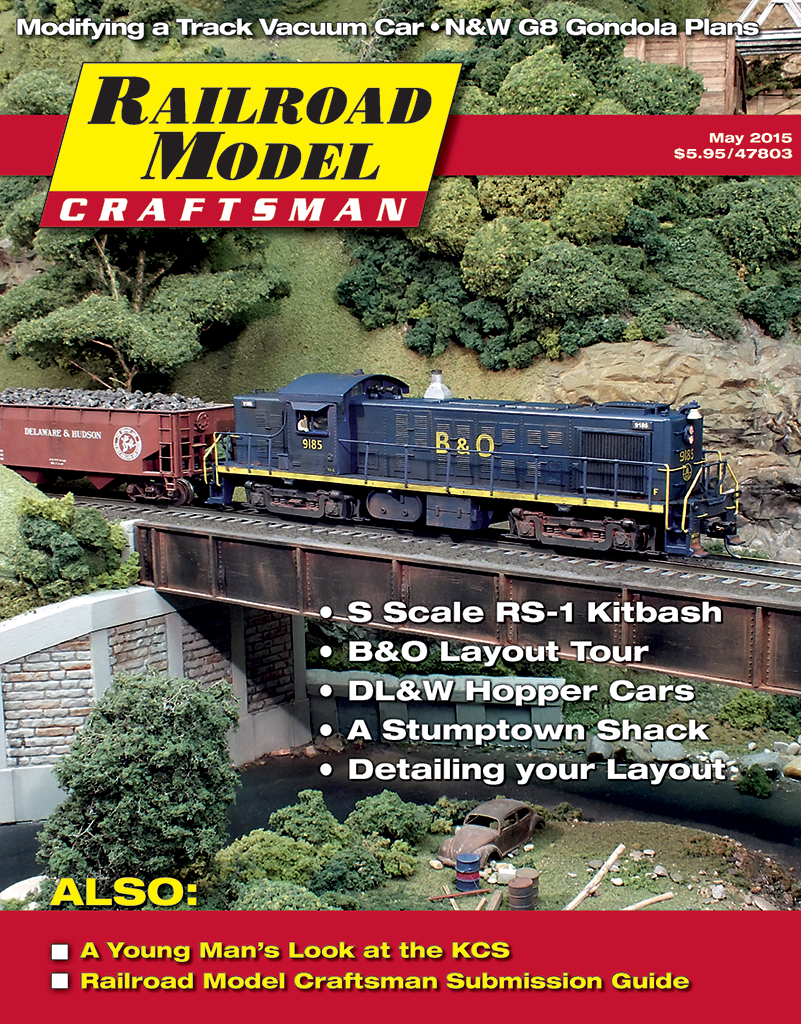 Railroad Model Craftsman May 2015
Features:
A Different World • by Dale Ridgeway — What life would be like growing up in an HO-scale B&O railroad.
DL&W Hopper Cars • by William Botkin — Detailing and upgrading Accurail and Walthers hoppers cars for the DL&W.
A Stumptown Shack • by Larry Canaday — Creating a unique model of a stumptown shack and property from scratch.
N&W G8 Gondola • by James Kinkaid — A look at N&WS G8 class of Ortner-built gondolas.
Build a B&O RS-1 • by Brooks Stover, MMR — Building an Alco RS-1 in S scale, twice!
A Layout Is Never Finished • by Tom Troughton, MMR — A unique look at creating details for your model railroad.
Vacuuming Track • by David Steer — Modifying a European track vacuum car for use on a North American prototype.
---
Departments:
Editor's Notebook • by Stephen Priest
Receiving Yard
Rail Books • Book news and reviews
RMC Timetable • Scheduled events and notices
RMC Perspective
Look Both Ways • by Mike Schafer & Bill Navigato
Test Track • by Tony Cook — Product reviews
Scratchbuilder's Workshop • by Bob Walker
RMC/Dremel Kitbashing Award • by Tom Teeple
Classified Ads • Commercial listings
Dealer Directory • Recommended hobby dealers
Advertising Index
---