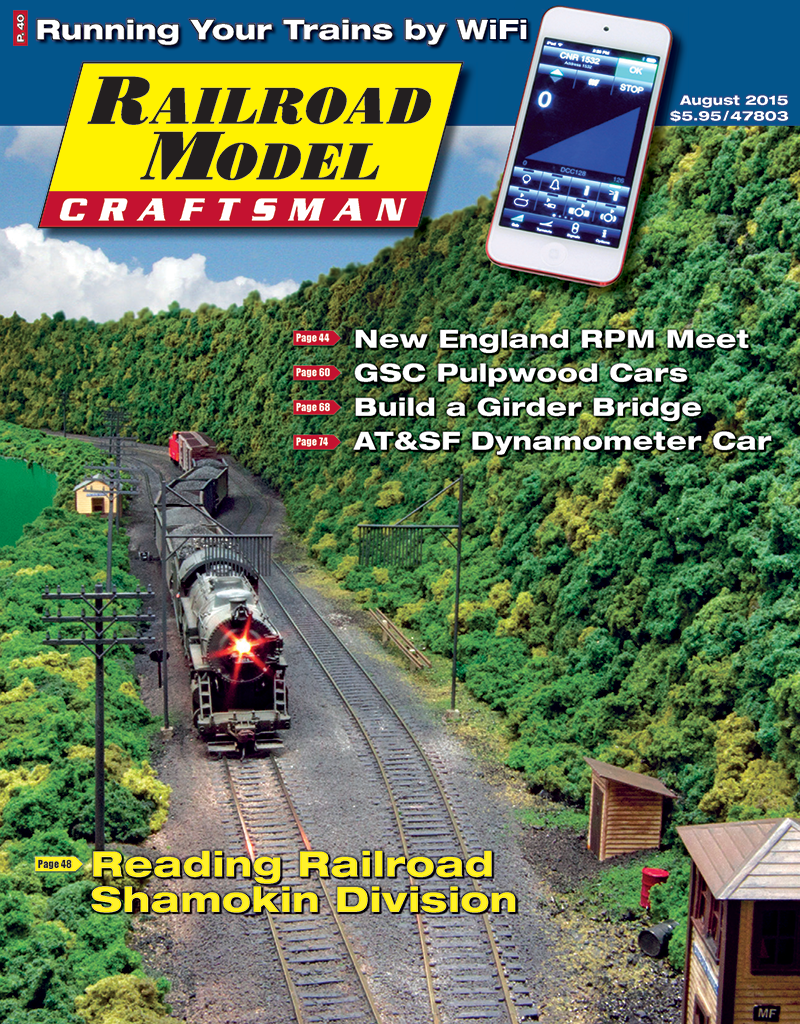 Railroad Model Craftsman August 2015
Features:
Running Trains by WiFi • by Trevor Marshall — Smart wireless throttles add some 21st century technology to a steam-era layout.
Northeast RPM Meet • by Trevor Marshall — RMC Explores: A visit to the 2015 New England/Northeast RPM meet.
Reading RR: Shamokin • by Jim Hertzog — Visit this large Ho-scale layout built for operations.
GCS Pulpwood Car • by James Kinkaid — Drawings, photographs, and general history of these General Steel castings flats.
Girder Bridge • by Shawn Branstetter — Scratchbuild an O-scale plate girder bridge and bent approaches.
Dynamometer Car • by Tom Teeple — Scratchbuilding this unique Ho-scale Santa Fe dynamometer car 29.
Departments:
Editor's Notebook • by Stephen Priest
Receiving Yard
Rail Books • Book news and reviews
RMC Timetable • Scheduled events and notices
RMC Perspective
Look Both Ways • by Mike Schafer & Bill Navigato
Scratchbuilder's Corner • by Bob Walker
Test Track • by Tony Cook — Product reviews
RMC/Dremel Kitbashing Award • by Bob Bennett
Classified Ads • Commercial listings
Dealer Directory • Recommended hobby dealers
Advertising Index
---