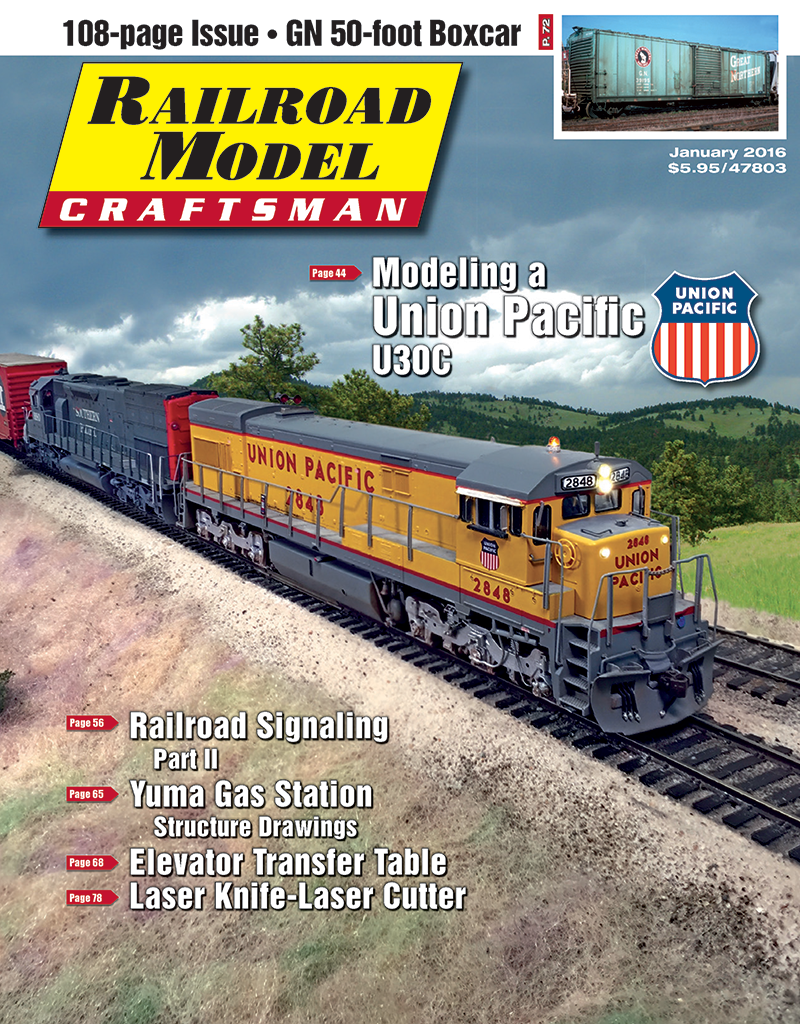 Railroad Model Craftsman January 2016
Features:
Union Pacific U30C • by Harry K. Wong — Improving the HO-scale Atlas GE U30C with updated details and LED lighting.
Railroad Signals • by Bruce Chubb, MMR — Railroad signal practices and their model railroad application, Part 2.
Yuma Gas Station • by Nicholas S. Muff — A look at pre-fab metal gas station design.
Elevator Transfer Table • by Joseph Kreiss — A look at a space-saving industry transfer table.
GN Early 50-foot Boxcar • by James Kinkaid — Images and drawings of Great Northern's rebuilt woodside cars.
Laser Cutter • by George Riley — Laser cutting is easier than you might think.
Departments:
Editor's Notebook • by Stephen Priest
Receiving Yard
Rail Books • Book news and reviews
RMC Timetable • Scheduled events and notices
RMC Perspective • by Hunter Hughson
Look Both Ways • by Mike Schafer & Bill Navigato
Scratchbuilder's Workshop • by Bob Walker
Test Track • by Tony Cook — Product reviews
RMC/Dremel Kitbashing Award • by Don Janes
Classified Ads • Commercial listings
Dealer Directory • Recommended hobby dealers
Advertising Index
---