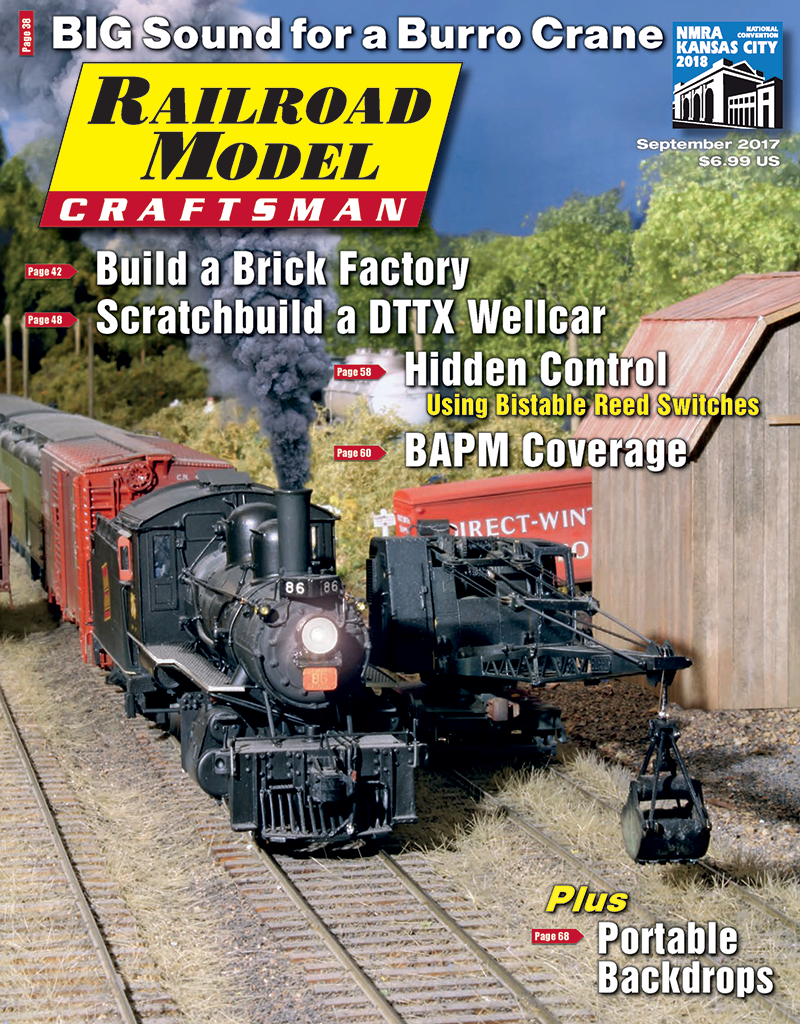 Railroad Model Craftsman September 2017
Features:
Big Sound For A Burro • by Trevor Marshall — Installing DCC with sound in an S-Scale burro crane.
A Brick Factory • by Thomas Oxnard, MMR — Using various materials and methods to scratchbuild an interesting factory.
DTTX 48-foot Skirted Wellcar • by Jonny Barnstorf — Scratchbuilding a unique intermodal wellcar.
Bistable Reed Switches • by Ken Harstine — Using a simple magnetic switch to control internal electronics.
B.A.P.M. 2017 • by Harry K. Wong — RMC visits the Bay Area prototype modelers meet.
Temporary Backdrops • by Mike McGinley — Building two-sided backdrops to enhance model photography.
Departments:
Editor's Notebook • by Stephen Priest
Look Both Ways • by Mike Schafer & Bill Navigato
Postmarks
Rail Books • Book news and reviews
Receiving Yard
RMC/Dremel Kitbashing Award • by Edward O'Rourke
RMC Perspective • by Nick Muff, MD
RMC Timetable • Scheduled events and notices
Scratchbuilder's Workshop • by Bob Walker
Test Track • by Tony Cook — Product reviews
Advertising Index
Dealer Directory • Recommended hobby dealers
---