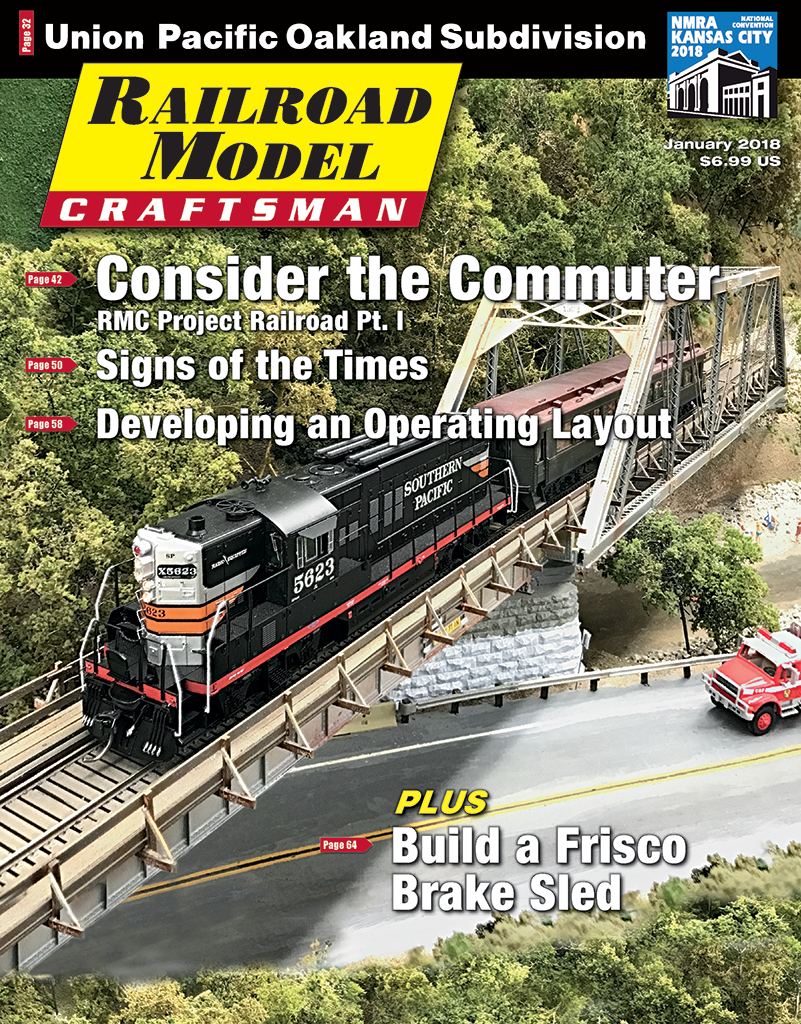 Railroad Model Craftsman January 2018
Features:
UP Oakland Subdivision • by Seth Neumann — A visit to this tech-savvy HO-scale Union Pacific Railroad.
Consider the Commuter, Part 1 • by George Riley and Otto M. Vondrak — An introduction to our new RMC project layout series, focusing on modeling modern commuter train operations in a compact space.
Signs of the Times • by Doug Nelson — Creating signs for your layout from photos and web resources.
Developing Operations • by Andrew Dodge, MMR — History, management, and imagination in one package.
Frisco Brake Sled • by Tom Teeple — Scratch-bashing a unique piece of Frisco rolling stock.
Departments:
Editor's Notebook • by Stephen Priest
Look Both Ways • by Mike Schafer & Bill Navigato
Postmarks
Rail Books • Book news and reviews
Receiving Yard
RMC/Dremel Kitbashing Award • by Bruce Bowie
RMC Perspective • by Gary Carmichael
RMC Timetable • Scheduled events and notices
Scratchbuilder's Workshop • by Bob Walker
Test Track • by David Otte — Phase II GP35
Advertising Index
Dealer Directory • Recommended hobby dealers
---