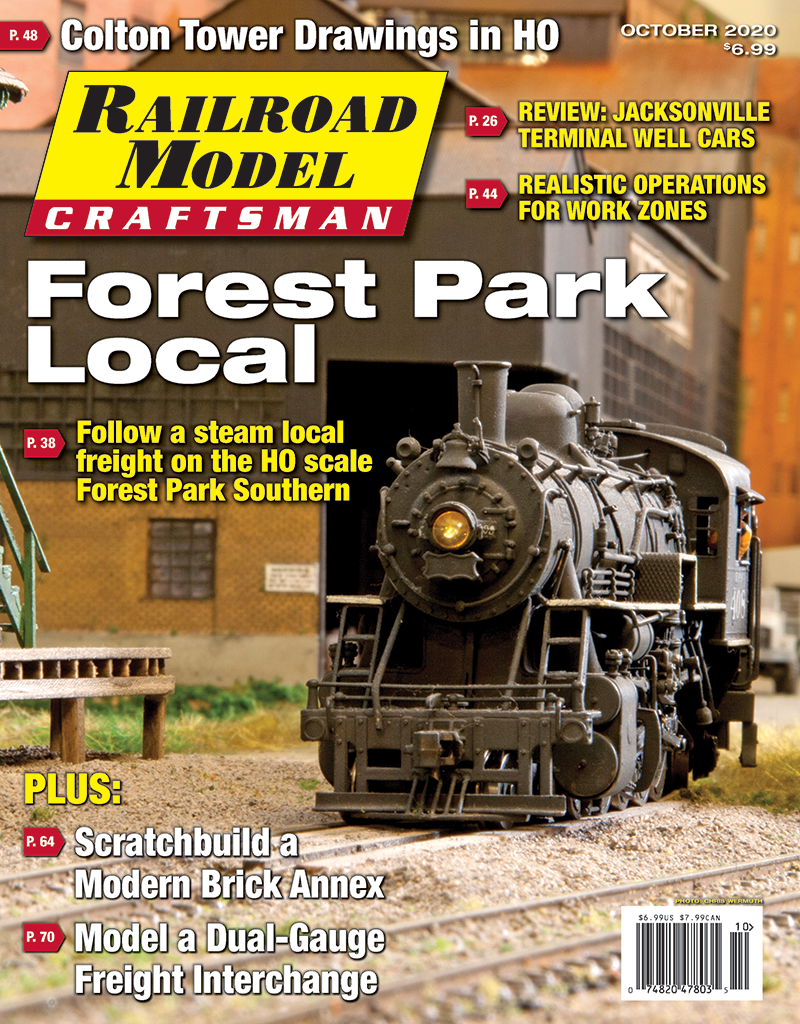 Railroad Model Craftsman October 2020
Features:
A Day on the Forest Park Southern • by Bill Doll — Follow a freight train on the freelanced Forest Park Southern in the Appalachian Mountains.
Model a MOW Crew for Op Sessions • by Scott Thornton — A simple maintenance of way crew can help add variety to operating sessions.
Santa Fe Tower at Colton, California • by Nick Muff, M.D. — This tower was located at a busy junction along the Santa Fe and Southern Pacific.
Kitbash a Santa Fe Slug Set: Part 2 • by Craig Chandler — Finish modeling a rebuilt yard switcher and slug set in HO scale.
Weather a Backwoods Water Tank • by Matthew Welsh — Create realistic weathering effects for a stone foundation and a rusty water tank.
Scratchbuild a Modern Brick Annex • by Hunter Hughson — Simple steps for building modern mid-century brick industrial structures.
Dual-Gauge Freight Interchange • by Larry Burk — This simple freight interchange adds operational and visual interest to a small layout.
Departments:
Collector Consist
Craftsman Timetable
Craftsman Workshop
Dealer Directory • Recommended hobby dealers
Diverging Points • by Jason Schron
Editor's Notebook • by Otto M. Vondrak
Index of Advertisers
Look Both Ways • by Mike Schafer & Bill Navigato
Perspective • by Matt Posthumus
Rail Books • Book news and reviews
Receiving Yard
Safety Valve
Test Track • by Robert J. Zenk — Rapido Trains Pullman-Standard Lightweight Diner Product Review
Test Track • by Harry K. Wong — Jacksonville Terminal Company's NSC 9-post Double Stack Intermodal Well Cars Product Review
Test Track• by George Riley — Bar Mills' Babcock Boiler Works Product Review
---