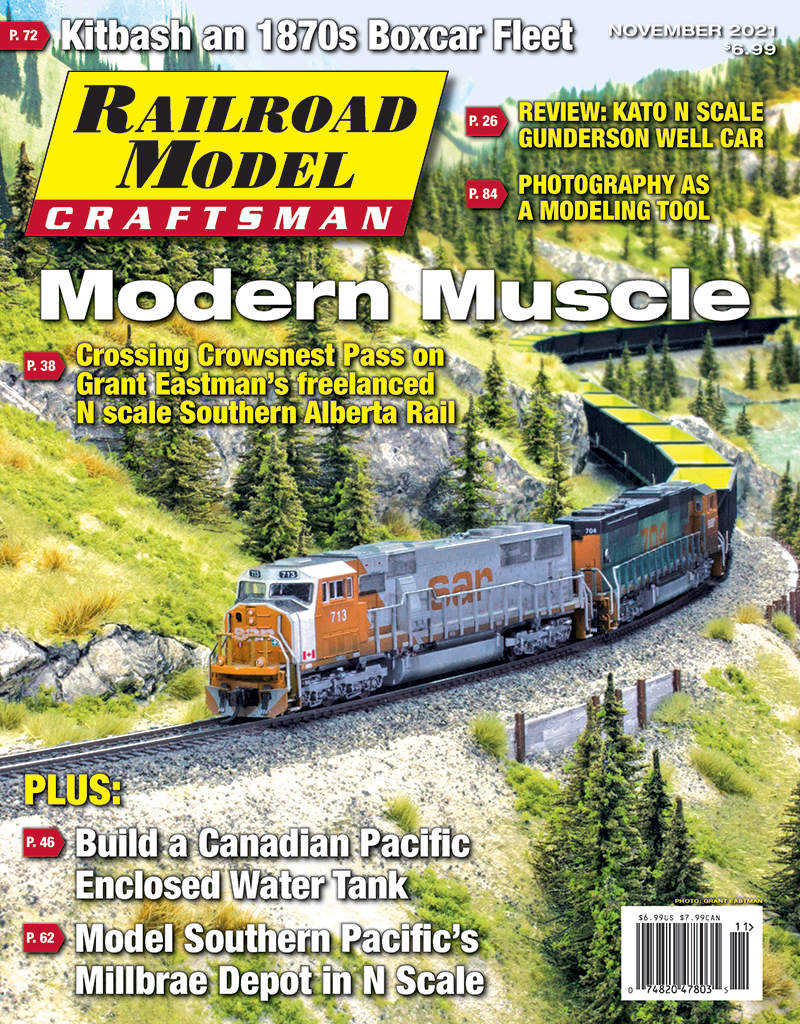 Railroad Model Craftsman November 2021
Features:
Southern Alberta Rail • by Grant Eastman — This modern freelanced N scale layout features the dramatic crossing of Crowsnest Pass in Alberta and British Columbia.
Canadian Pacific Enclosed Water Tank • by Patrick Lawson — These unusual octagon enclosed water tanks could be found across the Canadian Pacific system to safeguard against cold.
Model a Modern Buffer Car • by M.R. Snell/em> — Retired covered hoppers find a second career in company service helping buffer locomotive crews from chemical unit trains.
The Story of Two Guadalupe Mikados • by Brian Moore — Using photographs to deduce the typical operations of two specific Mikado steam engines in service on Southern Pacific's Coast Line.
Building Millbrae Depot in N Scale • by J.R. Boye — Dusting off old plans to build a model of a distinctive wooden depot along Southern Pacific's Peninsula suburban commute district.
A Fleet of 1870s Boxcars from One Kit • by Joshua Bernhard — Building accurate freight cars for 1870s railroading can be a fun challenge using craftsman kits and historic photos for reference.
Departments:
Company Photographer
Craftsman Timetable
Craftsman Workshop
Dealer Directory • Recommended hobby dealers
Diverging Points • by Jason Shron
Editor's Notebook • by Otto M. Vondrak
Index of Advertisers
Perspective • by Andrew Castle
Rail Books • Book news and reviews
Receiving Yard
Safety Valve
Test Track • by Harry K. Wong — Athearn Genesis 2.0 EMD SD60M "Triclops" Locomotive product review
Test Track • by Harry K. Wong — Kato USA Gunderson Maxi-I 5-unit Intermodal Well Car product review
Test Track • by George Riley — Dwarvin Fiber Optic Lighting System product review
---