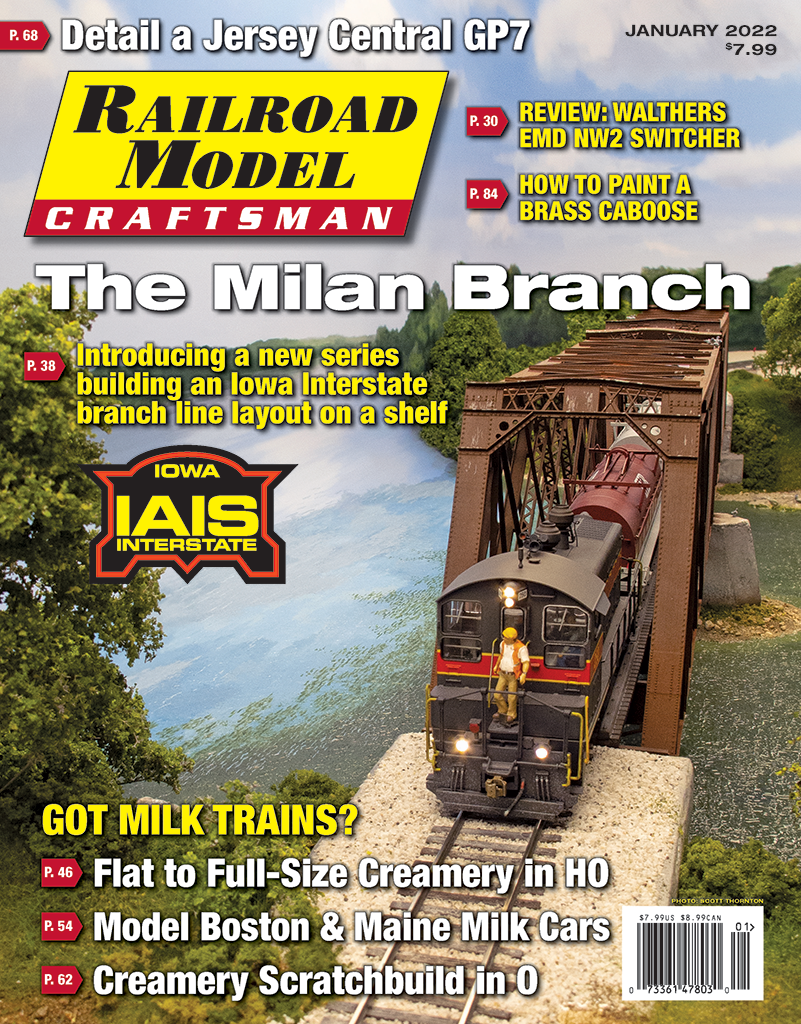 Railroad Model Craftsman January 2022
Features:
Iowa Interstate's Milan Branch • by Scott Thornton — Introducing a new series about building a shelf layout based on a branch line.
From Flat to Full Size: Hood Creamery in HO • by Don James — Kitbashing a shallow background building into a fleshed-out, full-size structure.
Model Boston & Maine Brookside Creamery Cars • by George Dutka — A variety of insulated wood and steel cars hauled milk on B&M into the early 1970s.
A Scratchbuilt Creamery in O Scale • by Bob Bennett — This simple structure represents a typical trackside creamery serving a small city in Maine.
Detail a Jersey Central GP7 • by Alan Mende — Loaded with detail, this Atlas HO model is ready to haul freight or passengers.
Departments:
Craftsman Timetable
Craftsman Workshop
Dealer Directory • Recommended hobby dealers
Diverging Points • by Jason Shron
Dremel Kitbashing Award M.G. BARAN Norfolk Southern SIECO Tie Gondola in HO • by Harry K. Wong
Editor's Notebook • by Otto M. Vondrak
Index of Advertisers
Painting & Weathering
Perspective • by Justin Franz
Rail Books • Book news and reviews
Receiving Yard
Safety Valve
Test Track • by Harry K. Wong — Rapido Trains GMDD FP9A Locomotive product review
Test Track • by Gareth Bayer — ScaleTrains G52X Bethgon Coal Gondolas product review
Test Track • by Harry K. Wong — WalthersMainline EMD NW2 Phase V Diesel Switcher product review
---