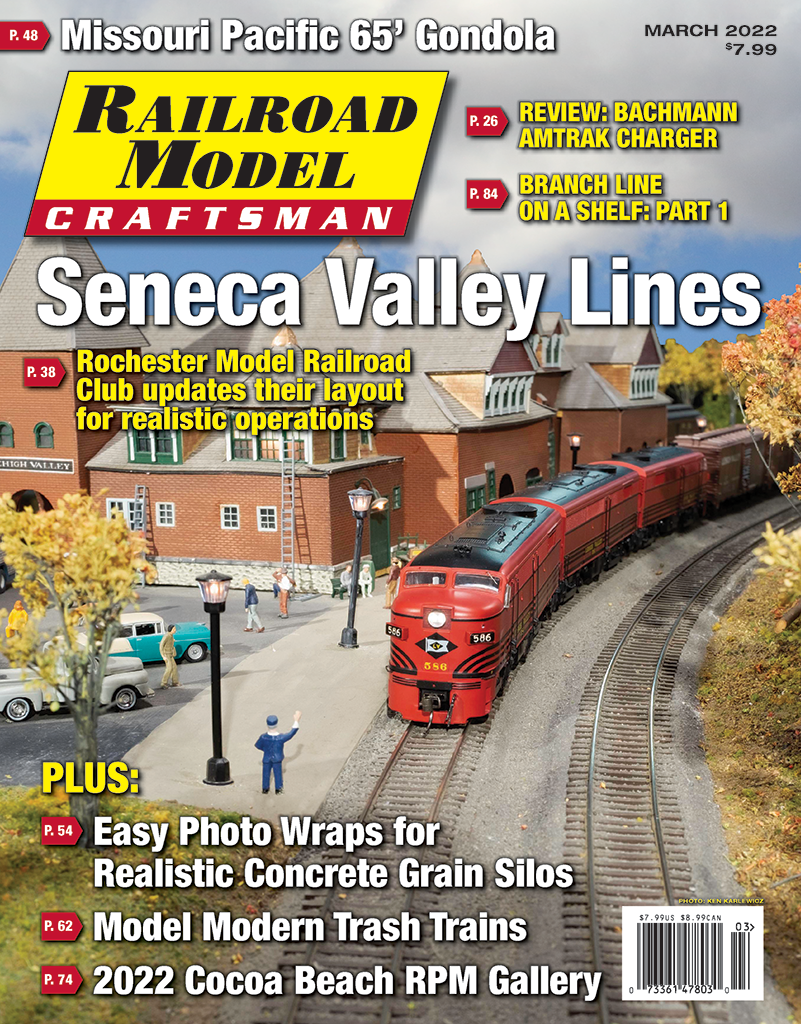 Railroad Model Craftsman March 2022
Features:
Rochester Model Railroad Club's Seneca Valley Lines • by William T. Crocca — A detailed HO scale layout depicting the Lehigh Valley from Jersey City to Buffalo.
Missouri Pacific 65' Thrall Gondola • by James Kinkaid — Built in the 1970s, these cars made their way into Union Pacifi c and Conrail service.
Modeling Slip Form Silos with Photo Prints • by Craig Chandler — Use photo prints to create the realistic texture of slip form concrete grain silos.
Taking Out the Trash • by Tyler Whitcomb — Garbage and other kinds of waste can be a source of traffic for your short line.
Easy Jersey Central Hopper Kitbash • by Alan Mende — An Athearn "blue-box" kit is the basis for this kitbash of a CNJ coal hopper.
Build this OO Gauge Hopper Car • by E.B. Hansbury, Jr. — From November 1936, scratchbuilding techniques were far different.
Departments:
Branch Line on a Shelf
Boomer Trail Special: Cocoa Beach RPM
Collector Consist
Dealer Directory • Recommended hobby dealers
Diverging Points • by Jason Shron
Editor's Notebook • by Otto M. Vondrak
Perspective • by David Richter and Scott Williamson
Rail Books • Book news and reviews
Receiving Yard
Safety Valve
Test Track • by Harry K. Wong — Bachmann Trains' Siemens Mobility ALC-42 Charger Locomotive product review
Test Track • by Gareth Bayer — ExactRail's FMC 5327cf Plug Door Box Car product review
Test Track • by George Riley — Broadway Limited's Union Pacifific UP-3 Class 4-12-2 Steam Locomotive product review
Timetable
---