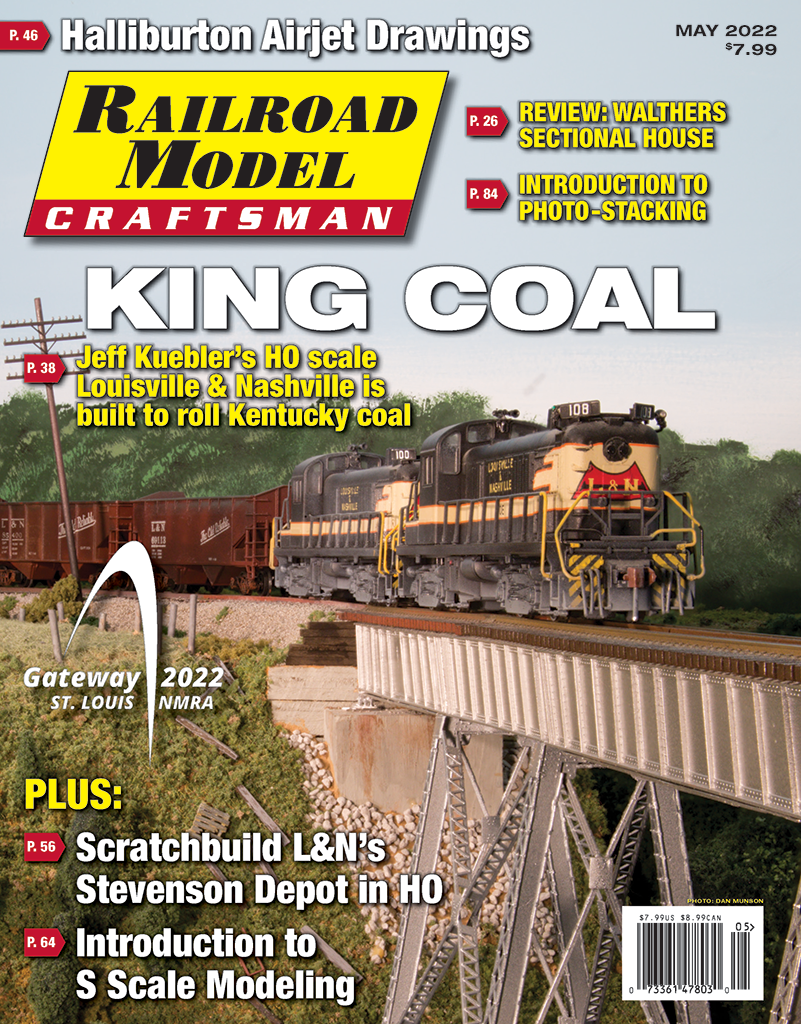 Railroad Model Craftsman May 2022
Features:
Louisville & Nashville in HO Scale • by Jeff Kuebler — Inspired by coal-hauling operations in Eastern Kentucky, this HO scale Louisville & Nashville layout is part of the 2022 St. Louis NMRA convention.
Halliburton Airjet Car • by James Kinkaid — This unusual arrangement of tanks mounted to a fl atcar was developed for Halliburton to transport powdered clay for drilling.
A More Colorful Past • by Chris Adams — Online programs using artificial intelligence can be used to colorize old black-andwhite photos that can be used as layout backdrops.
L&N Depot at Stevenson, Alabama • by Wayne Wesolowski — Built to replace an earlier depot that burned in the Civil War, this sturdy brick structure makes a great scratchbuilding project.
Solving S Scale's Identity Problem • by Jim Martin — While you might only know of tinplate American Flyer, the world of S scale model railroading is broader and more diverse than you think.
Detailing an Athearn Rock Island 85' Flatcar • by Jeff Carlson — Simple modifi cations and details make this older Athearn flatcar model stand out.
Departments:
Branch Line on a Shelf
Company Photographer
Craftsman Timetable
Dealer Directory • Recommended hobby dealers
Diverging Points • by Jason Shron
Editor's Notebook • by Otto M. Vondrak
Index of Advertisers
Perspective • by Scott "Kid" Williamson and David "Kid" Richter
Rail Books • Book news and reviews
Receiving Yard
Safety Valve
Test Track • by Harry K. Wong — Athearn Genesis 2.0 Canadian Pacifific SD70ACU product review
Test Track • by Hunter Hughson — Pennsylvania Railroad X31A Boxcar from Rapido Trains product review
Test Track • by George Riley — Walthers Cornerstone Modern Sectional House product review
---