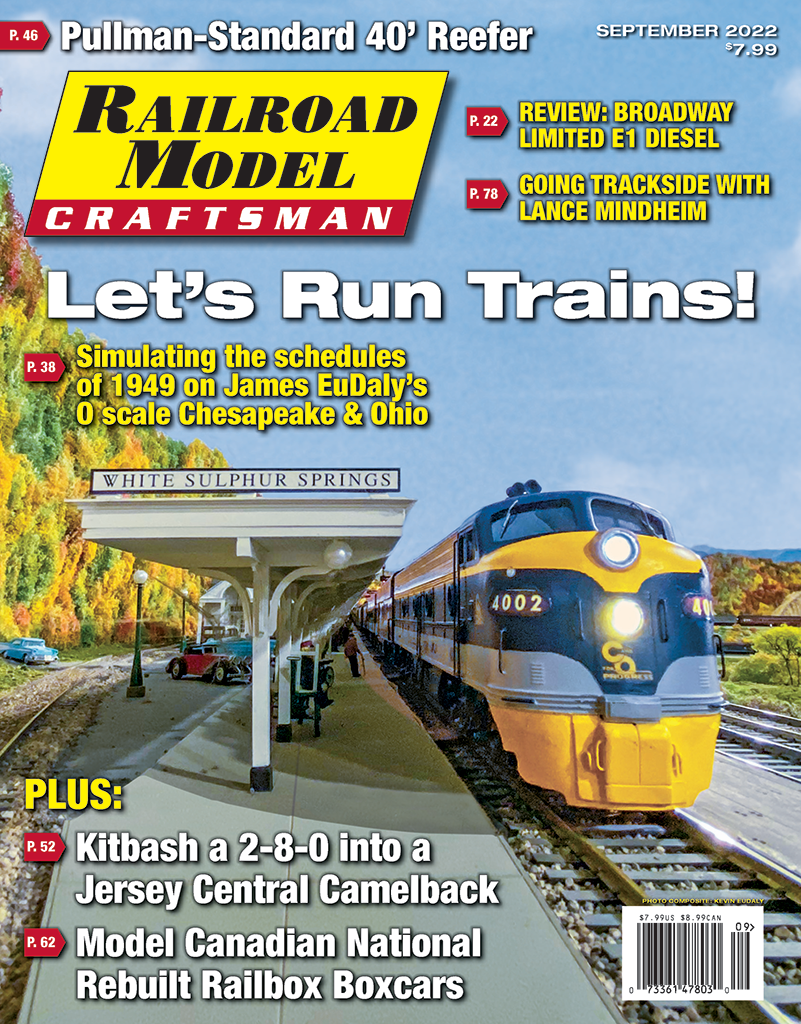 Railroad Model Craftsman September 2022
Features:
Let's Run Trains! • by James EuDaly — It's 1949 on the author's O scale Chesapeake & Ohio centered around Hinton, W.Va.
Pullman-Standard 40' MDT Reefer • by James Kinkaid — In 1960, Merchants Despatch ordered 40' insulated boxcars from Pullman-Standard.
Bachmann 2-8-0 to CNJ Camelback • by Alan Mende — Transforming Bachmann's 2-8-0 into a credible model of a Jersey Central C-39 camelback.
Easy Removable Lumber Loads • by Randy Watts — Perfect for operating sessions, freight cars stay on the rails while loads are removed.
Junk Box Hero: CN Rebuilt Boxcar • by Will Lawrence — 1990s Railbox boxcars rebuilt and relettered for Canadian National in HO scale.
Capturing the Trackside Perspective • by Lance Mindheim — Simple ideas and techniques to capture the excitement of being trackside on your layout.
Departments:
Collector Consist
Craftsman Timetable
Dealer Directory • Recommended hobby dealers
Diverging Points • by Jason Shron
Editor's Notebook • by Otto M. Vondrak
Index of Advertisers
Perspective • by David W. Richter
Rail Books • Book news and reviews
Receiving Yard
Safety Valve
Test Track • by George Riley — Broadway Limited EMC E1 and EA Locomotives product review
Test Track • by Gareth Bayer — American Limited Models Trinity 3281-cu.-ft. 2-bay Covered Hopper product review
Test Track • by Hunter Hughson — Rapido Trains Evans X72/X72A Boxcars product review
---