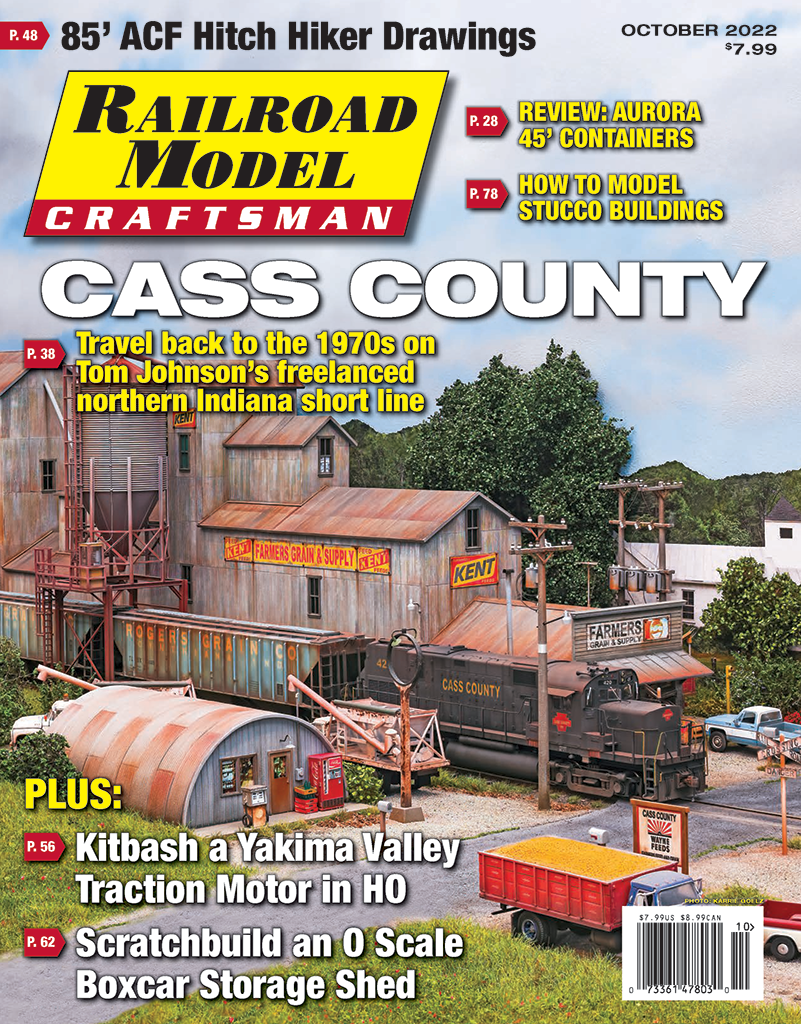 Railroad Model Craftsman October 2022
Features:
Welcome to Cass County • by Tom Johnson — Grain, feed, and fertilizer are the lifelines of this 1970s northern Indiana short line.
ACF Hitch Hiker Flatcar: Part 1 • by Mike Panza — This pioneering 1950s design allowed Trailer Train to haul two 40-foot trailers on one car.
Yakima Valley Traction Steeplecab • by Bob Belt — Commercial parts and Stanton drives combined to create a unique HO electric freight motor.
Scratchbuild a Boxcar Shed • by Bob Bennett — Old retired boxcars were often repurposed as storage sheds in railroad yards.
Central Vermont Mail & Express Car • by Don James — A Bethlehem Car Works kit is the basis for this distinctive heavyweight passenger car.
Departments:
Boomer Trail: St. Louis RPM
Craftsman Timetable
Craftsman Workshop
Dealer Directory • Recommended hobby dealers
Diverging Points • by Jason Shron
Editor's Notebook • by Otto M. Vondrak
Index of Advertisers
Painting & Weathering
Perspective • by Andrew Castle
Rail Books • Book news and reviews
Receiving Yard
Safety Valve
Test Track • by Harry K. Wong — Rapido Trains GMDD F59PH and Bilevel Coach product review
Test Track • by Gareth Bayer — Aurora Miniatures 45-foot High-Cube Intermodal Container product review
---