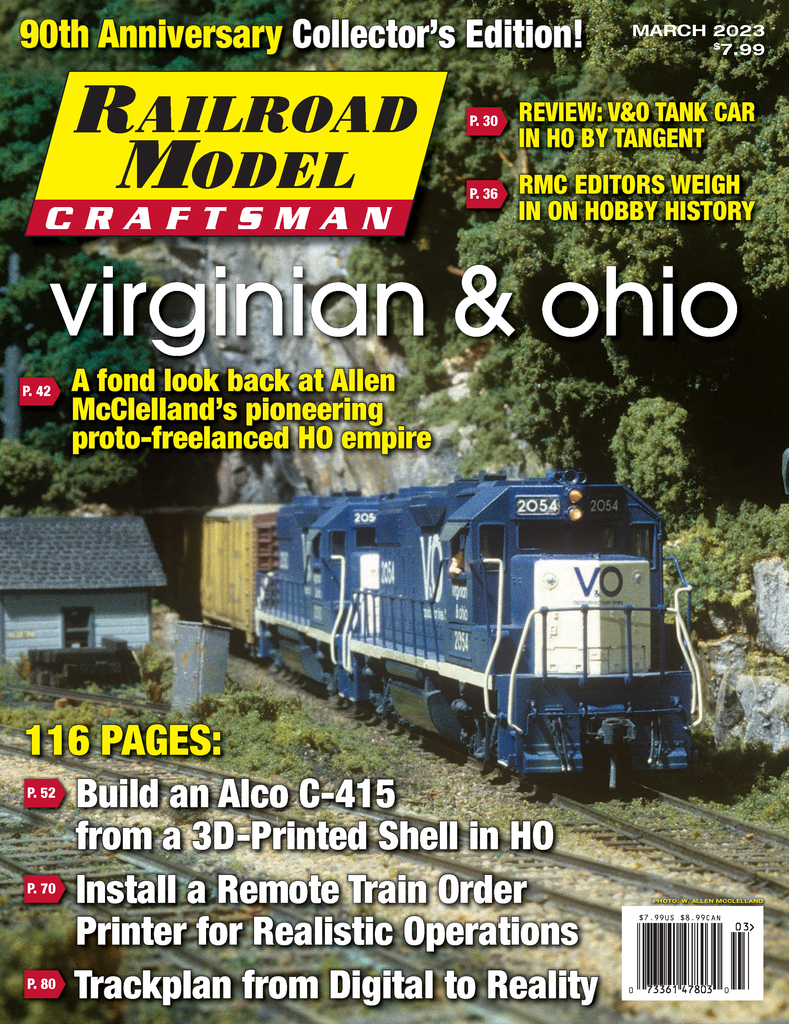 Railroad Model Craftsman March 2023
Features:
90 Years of Perspective • Special — Past editors reflect on the evolution of 90 years of hobby history through the pages of RMC.
The Legendary Virginian & Ohio • by Otto M. Vondrak — Allen McClelland's HO scale empire pioneered many concepts still employed today.
Build an Alco C-415 from a 3D Print • by Dan Lewis, MMR — Detailed 3D-printed shells can help you produce models of rare prototypes.
90 Years of Craftsman History • Staff Special — When it comes to model trains, we did it fi rst, and nine decades later, we still do it best.
"Hand Up" Orders to Your Crews • by Ken Harstine — Deploy USB receipt printers around your layout to send train orders to your crews.
Scratchbuilt Freelanced Coal Shed • by Wayne Wesolowski — Casting parts in resin saves time in constructing this coal dealer's shed.
Trackplan from Simulation to Reality • by Robert Mountenay and Nick Ozorak — How two modelers approached the same track plan in a digital simulation and in real-life construction.
Departments:
Boomer Trail: Cocoa Beach
Branch Line on a Shelf
Collector Consist
Dealer Directory • Recommended hobby dealers
Diverging Points • by Jason Shron
Editor's Notebook • by Otto M. Vondrak
Index of Advertisers
Perspective • by Tony Koester, Bill Schaumburg, Chris P. D'Amato, and Stephen Priest
Rail Books • Book news and reviews
Receiving Yard
Safety Valve
Test Track • by Harry K. Wong — Aurora Miniatures GMD SD60F 'Draper-Taper' product review
Test Track • by George Riley — Walthers Build-A-World: Northwoods Retreat product review
Test Track • by Dan Munson — Home Shops/Tangent Scale Models Virginian & Ohio Company Service Tank Cars product review
Timetable
---