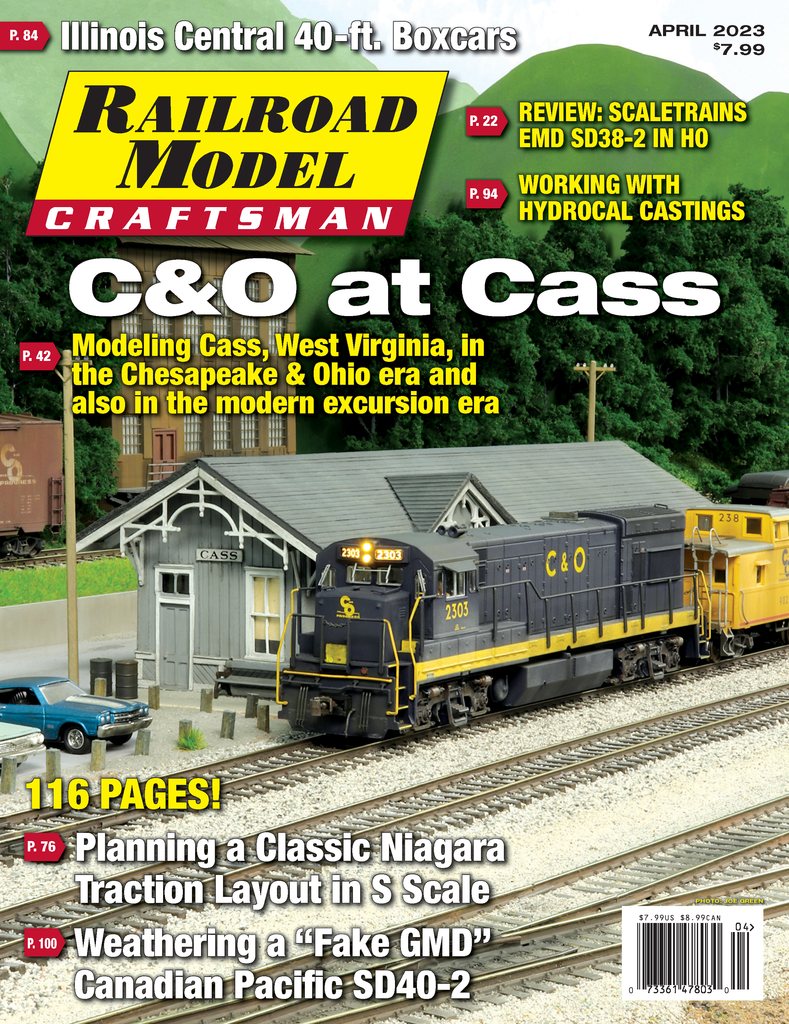 Railroad Model Craftsman April 2023
Features:
Generations at Cass, West Virginia • by Steve Barry — In the heart of West Virginia, the whistles of geared steam still echo through Cass.
Mill Gap on the C&O Ryder Sub • by Joe Green — A creative mixing of elements supports a fun and detailed HO switching layout based on Cass.
Prototype Modeling Cass, W.Va. • by Steve Funsten — Scratchbuilding Cass' unique structures was part of the appeal of this diorama.
Cass Comparison • by Otto M. Vondrak — Two approaches to modeling the same locale, decades apart, in HO scale.
Haussler's Covers of the 1940s • by Lynne Oakes — William E.C. Haussler's creative portraits graced our covers in the early 1940s.
Planning Niagara Traction in S • by Trevor Marshall — - Recreating the electrified Niagara, St. Catharines & Toronto in S scale.
Model Illinois Central 40-ft. Boxcars • by Tim Alund — Modeling 40 years of variations on IC boxcars using HO scale kits from InterMountain Railway.
Animate a Train Order Semaphore • by Jon E. Schmidt — - Using easily sourced materials to make your semaphore move just like the real thing.
Departments:
Craftsman Timetable
Craftsman Workshop
Dealer Directory • Recommended hobby dealers
Diverging Points • by Jason Shron
Editor's Notebook • by Otto M. Vondrak
Index of Advertisers
Painting & Weathering
Perspective • by Scott Williamson
Rail Books • Book news and reviews
Receiving Yard
Safety Valve
Test Track • by Harry K. Wong — ScaleTrains 'Rivet Counter' EMD SD38-2 product review
Test Track • by Harry K. Wong — ROKA Models Whitehead & Kales Safe-Pak Auto Carrier product review
Test Track • by Harry K. Wong — Tangent Scale Models Brass General American 6,000-Gallon Three-Compartment Tank Car product review
---