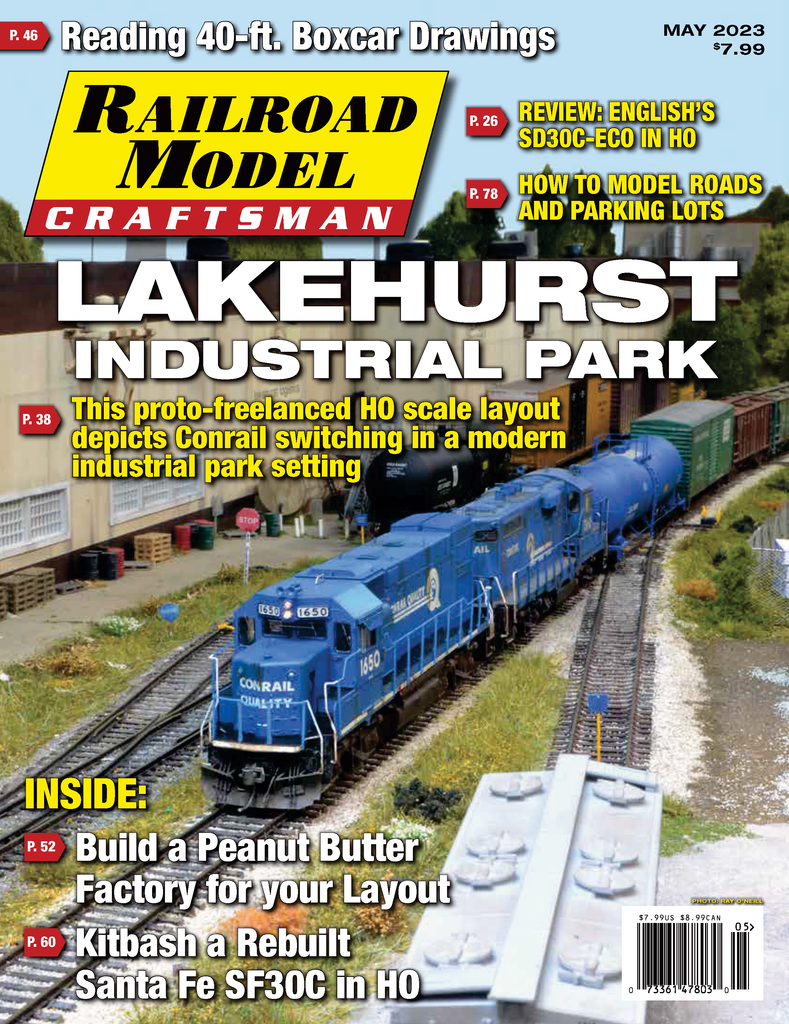 Railroad Model Craftsman May 2023
Features:
Lakehurst Industrial Park • by Ray O'Neill — A proto-freelanced HO scale switching layout inspired by Conrail operations in New Jersey.
Reading Class XMy 40-Ft. Boxcar • by James Kinkaid — In 1947 Reading home-built 800 cars, and American Car & Foundry added another 500.
Build a 1950s Peanut Butter Factory • by Philip Dehne — WARNING: This detailed HO scale mid-century industry kitbash may contain nuts.
Rebuilt Santa Fe SF30C in HO • by Sean Graham-White/em> — Santa Fe rebuilt 70 General Electric U36Cs to extend their life into the 1900s.
Scratchbuild a Loading Platform • by Scott Meyer — Simple techniques to scratchbuild a wooden team track loading platform in an evening.
Modernize a VIA Rail Baggage Car • by Tim Hayman — A Rapido Trains model is the base for this modern head-end power rebuild in HO scale.
Departments:
Branch Line on a Shelf
Craftsman Timetable
Dealer Directory • Recommended hobby dealers
Diverging Points • by Jason Shron
Editor's Notebook • by Otto M. Vondrak
Index of Advertisers
Painting & Weathering
Perspective • by Miles Callan
Rail Books • Book news and reviews
Receiving Yard
Safety Valve
Test Track • by Harry K. Wong — ClassOneModelWorks.com Thrall TWF10 Intermodal Well Car and 48-ft. Intermodal Containers product review
Test Track • by Harry K. Wong — English's Model Railroad Supply Canadian Pacifific SD30C-ECO product review
Test Track • by Harry K. Wong — Eastern Seaboard Models Magor/PC&F XIH Insulated/Heated Boxcar product review
---