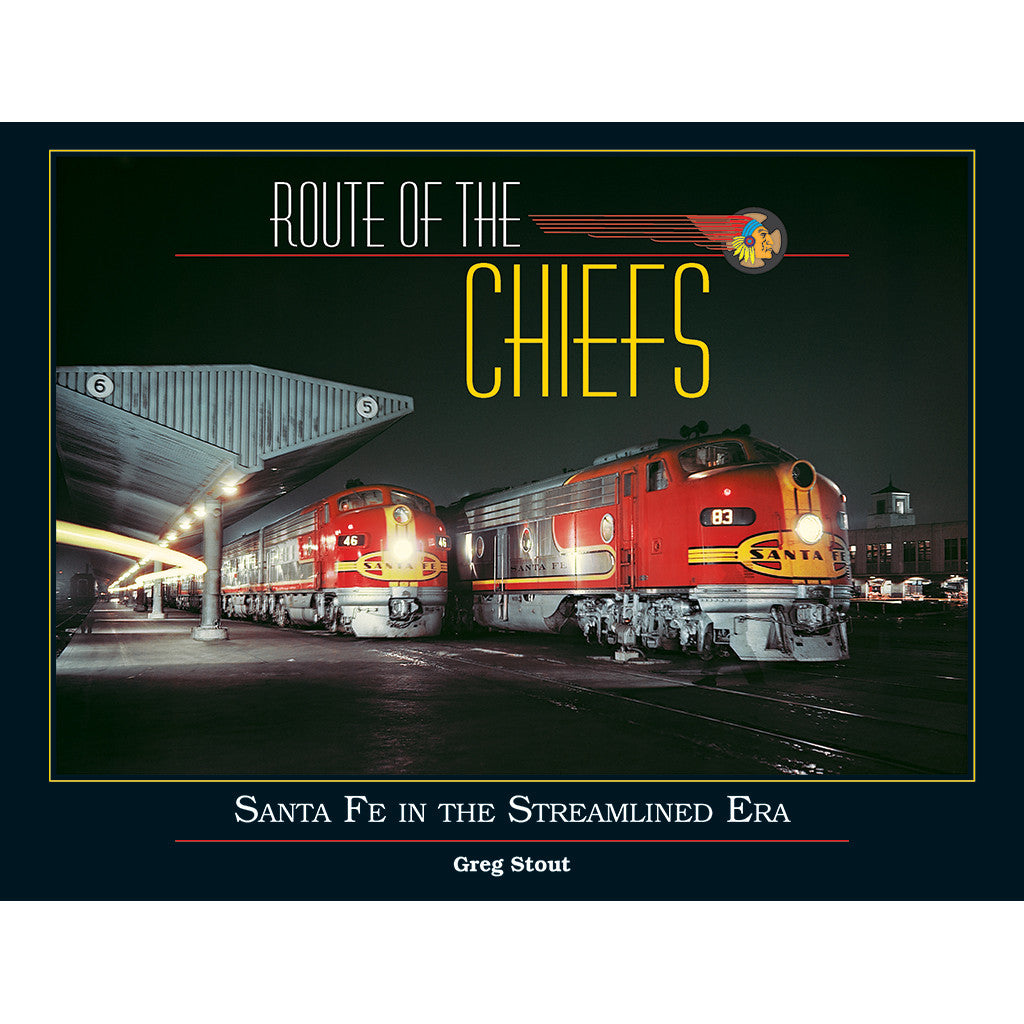 Route of the Chiefs
This long-anticipated volume is finally here! Route of the Chiefs is the ultimate photographic history of how the Santa Fe rose to being one of the foremost passenger carriers in America's streamliner era. From the premiere Super Chief to the extensive network of secondary trains, this new 256-page volume is the next best thing to being on board.
If ever a railroad was a friend to the passenger, Santa Fe was it. From the 1892 version of the California Limited to the Santa Fe De-Luxe, to the 1926 Chief, to the 1937 Super Chief, no other railroad offered greater luxury to its first-class clientele. Later, with the inauguration of the 1938 El Capitan, the company brought fast, modern accommodations to coach travelers as well. Add to that the remaining Chiefs and streamliners, including the San Francisco Chief, Texas Chief, the Chief itself, plus the Grand Canyon, Chicagoan, Kansas Cityan, San Diegan, Golden Gates, and a host of supporting cast players like The Cavern, El Pasoan, Tulsan and others, and it is hard to conceive of any railroad that did it better, or even as well.
About the author
Following Route of the Eagles (1995) and Route of the Rockets (1997), Route of the Chiefs is Greg Stout's third title for White River Productions, and twenty-first overall. Now retired from a career that included 28 years in the automotive industry and 12 years in public education, he now lives with his wife of 43 years in Cape Girardeau, Mo.
Table of contents
Chapter 1: The Super Chief and El Capitan
Chapter 2: The Fred Harvey Mystique
Chapter 3: Every Man's Luxury Liner: The Chief
Chapter 4: Carrying the Mail: The Fast Mail Express
Chapter 5: Surf Line Corridor: The San Diegans
Chapter 6: Goin' to Kansas City: The Kansas Cityan, Chicagoan, and Kansas City Chief
Chapter 7: Valley Girls: The Golden Gates and Valley Flyer
Chapter 8: Sooner State Streamliners: The Tulsan and Oil Flyer
Chapter 9: Ports of Call for Chiefs on the Move
Chapter 10: Santa Fe's Lone Star Streamliner: The Texas Chief
Chapter 11: Not Quite a Chief: The Grand Canyon
Chapter 12: Bay Bound Beauty: The San Francisco Chief
Chapter 13: Little Chiefs of the Santa Fe
Appendix A: Santa Fe's Streamlined Passenger Car Fleet
Appendix B: Power for the Chiefs: The Locomotive Fleet
---