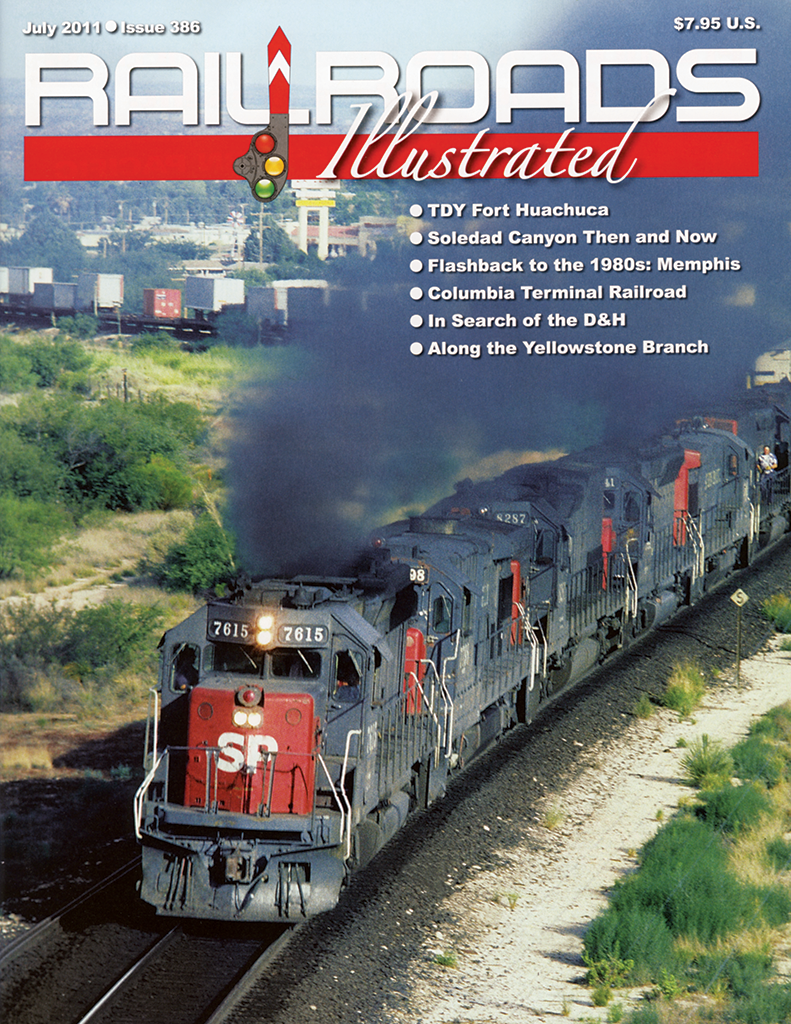 Railroads Illustrated July 2011
Features:
TDY For Huachuca: Death Sentence or Paid Vacation? • by Jeffrey A. Harwell — For most government employees, a business trip to Fort Huachuca, in southeastern Arizona about 75 miles from Tucson, is special form of living nightmare. But for a select few the region is a gift from the railroad heavens.
Soledad Canyon Then and Now • by Tom Gildersleeve — One of the more scenic spots in the Tehachapi area, the canyon has remained almost unchanged over the last 50 or so years.
Falshback to the 1980s Memphis, Tennessee • by Pail Jansson — Through the years Memphis has more carried more renown than its size would suggest. In the railfanning world, though, the opposite has generally been the case. The region has been surprisingly overlooked considering the variety of traffic in the area. During the railroad tumult of the 1980s was quite the destination.
Columbia Terminal Railroad • by Randy Allard — When NS sought to rid itself of its Columbia Branch, a split-off of at Centralia, Missouri from the St. Louis-Moberly mainline, the city of Columbia bought the line and developed an industrial zone along the right-of-way. Today they ship more than 2000 cars on the line that NS gave up for dead.
In Search of D&H • by Robert R. Carpenter — In the early 1970s, Northeastern railroads were dropping like flies. While Conrail and Amtrak consolidated much of the rail operations, D&H managed to retain and expand its distinctive character; for a while.
Along the Yellowstone Branch • by Thornton Waite — Union Pacific's Yellowstone Branch was built primarily for tourist traffic. Over the years, automobiles succeed railroads as the transportation of choice, but the area still bears the marks and remnants of former days.
Departments:
Opening Shot • by Mitch Goldman
CTC Board—Current news items.
Parting Shot • by William W. Harwell, Jr.
---