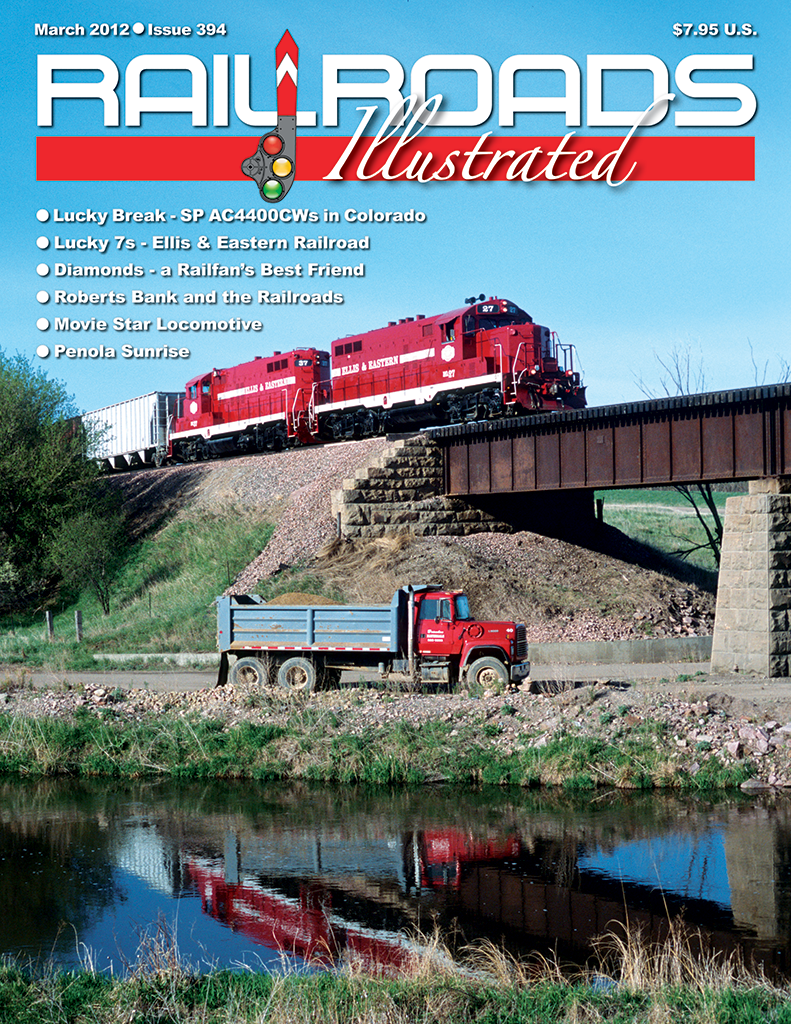 Railroads Illustrated March 2012
Features:
Lucky Break • by Carl Graves — New SP locomotives ply the rails on the Colorado Craig Branch in 1995-96.
Lucky 7s • by John Leopard — The Ellis & Eastern Railroad just may be a gambler's favorite railroad; all five of their units carry the number seven: 7, 17, 27, 37 and 47.
Diamonds are a Railfan's Best Friend • by Kevin Burkholder — Railroad diamond crossings can provide some very enjoyable railfanning experiences, especially the two high-volume steel jewels sitting within 10 miles of each other on the NS near Butler, Indiana.
Roberts Bank and the Railroads • by Radford Bean — Vancouver is home to Canada's busiest and North America's fourth busiest port, and railroads play a vital role in the daily activity.
Movie Star Locomotive • by Don Baumgart — Sierra Railroad No. 3, one of the oldest operating steam locomotives in the country and veteran of more than 100 films, has been refurbished and restored to active duty.
Penola Sunrise • by Ron Flanary — A small flurry of activity rumbles through the sleepy countryside in the heart of Virginia's oldest county just as the sun begins to peak out over this brief stretch of East-West ex-RF&P trackage.
Departments:
Opening Shot • by Jim Boyd, WRP Collection
CTC Board—Current news items.
---