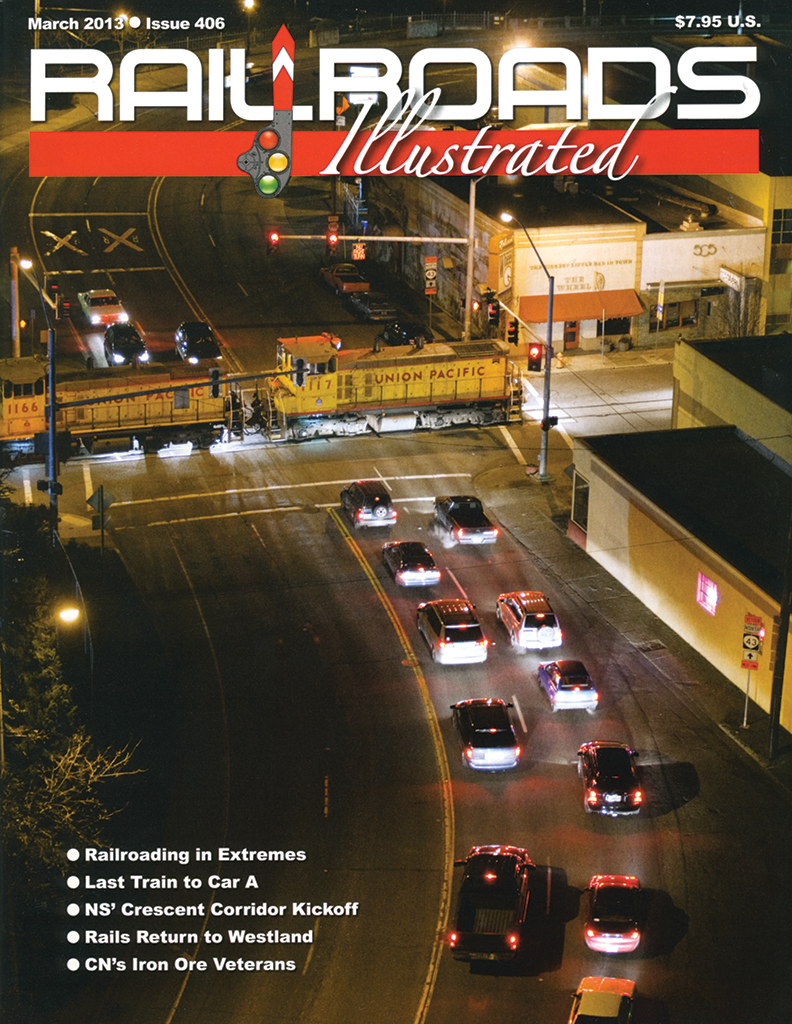 Railroads Illustrated March 2013
Features:
Norfolk Southern's Crescent Corridor Kickoff • by Scott Lindsay — On January 20, 2013, NS opened service into Memphis on its new intermodal corridor connecting the Southeast and Northeast.
Rails Return to Westland • by David Baer — After 25 years of silence, trains are running on the new the Westland Branch about 45 minutes southwest of Pittsburgh.
Canadian National's Iron Ore Veterans • by David Schauer — In the iron ore regions of Minnesota and Michigan can be some of the oldest operating revenue freight cars in North America; cars dating from orders placed between 1948 and 1957.
Railroading in the Extremes • by Robert W. Scott and Steve Eshom — Railroading, as an always-on operation, tends to offer enthusiasts ample opportunity to experience their favorite subject in all manner of locations and weather conditions.
Last Train to Car A • by Jeff Moore —   Siskiyou County in northern California was once home to 50 sawmills. In August 2003, the last mill closed.
Departments:
Opening Shot • by Mike Danneman
CTC Board—Current news items.
Parting Shot • by Jonathan Wright
---